Options
If you are not connected to the Internet via LAN, you need a Dial-up connection (modem, ISDN, ASDN, etc.). When you click the Options button, the following dialog is displayed: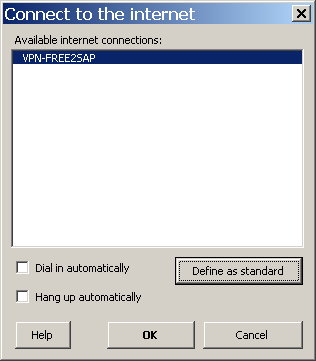 In the list box, the available Internet connections are listed.
Moreover, there are several options:
· To define one connection as standard, select an item and click the Define as standard button.
· If you do not want this dialog to be shown in the future when you connect to the Internet, check the Dial in automatically checkbox.
· If any Internet connection should be closed each time after MetaTexis is connected, check Hang up automatically.
To save the settings, click the OK button.